About Us
September 8 of the year Nineteen Hundred and Ninety-Nine. Reform America, Inc. was officially recognized by the government of the State of Maryland, United States of America. This date shall be remembered for time as the date on which a new revolution of youth in action began. Below you can read our goals, but in order to achieve results, you need to start working now! So, go to https://300writers.com/hire-letter-writer.html for letter writers for hire to start your self-development.

We are exempt from federal income tax under section 501(a) of the Internal Revenue Code as an organization described in section 501(c)(3).
Meet the organizers and leaders of this organization, the Board of Directors and the Executive Committee. Read RAI's bylaws, and our statement of activity submitted with our 501(c)(3) application to the Internal Revenue Service.
Mission Statement
Reform America, Inc. (RAI) has been formed with the purpose of developing the leadership skills of young Americans while engaging the public in the political and voting process. We are committed to engaging the young people of America in a drive towards reforming the voting systems and other entrenched but undemocratic institutional procedures in the United States. RAI is determined to show the country that America's youth are ready to make a difference where it counts.
We are concerned about the unrepresentative nature of this nation's voting systems, as well as with the abusive and draconian ballot access regulations found in many of the States in our union. Additionally, candidate debate regulations are proving unfair to candidates, and, more importantly, to the voter. Internet voting is an issue that cannot be ignored, especially by tech-savvy young people.
We are committed to improving our democracy for our generation, and for future generations, through the active engagement of young people in the political process. All of these issues and others, and the active role we see young Americans taking in reforming these issues and challenging the establishment, speak to the object of our mission.
We are Reform America, Inc.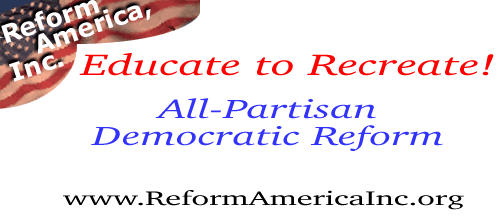 Click Here to download our banner!

Reform America, Inc.