Candidate Debate Reform
Minor party and independent candidates for every level of office are time and again blocked from participating in debates, both publicly and privately sponsored. After all, debates are an example of good preparation and clarity of positions, and that is why it is so important to understand the main points of public speaking, about which there are useful materials on best writing service. Ratings have taken a front seat to expanded voter choice; money interests have been looked at more closely than citizen voter interests. There is now a Call to Action to open up candidate debates for every level of office to expand voter choice and increase voter interest. Please take the time to read the papers below, as they appear in Reform Americašs Journal: 21st Century Voter.
The Commission on Presidential Debates and Debate Reform, by Andre Mershon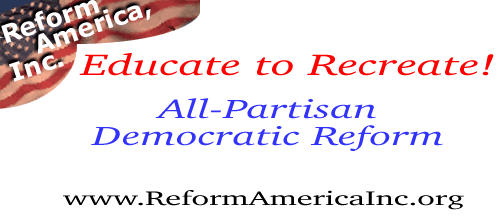 Click Here to download our banner!

Reform America, Inc.

Phone: